Projects
Middle school Ecoquartier, Rémire-Montjoly French Guyana
At the heart of Rémire Montjoly's Eco-neighborhood, the middle school is part of the landscape of the Cayenne mountain. Its forecourt opening onto the city creates an urban threshold and manages access to the raised level of the entrance. Its architecture composes with the topography to limit earthworks and split the courtyards and shaded exterior areas.
---
A North / South diagonal extends the urban layout, allows classes without air conditioning to be oriented towards the winds by keeping them away from noisy areas of catering, workshops, and sports facilities.
Large roofs protect the facades with generous overhangs and preserve natural lighting through the skylights open along the circulation areas.
The rigorously screened load-bearing facades allow the interior fittings to evolve according to educational practices.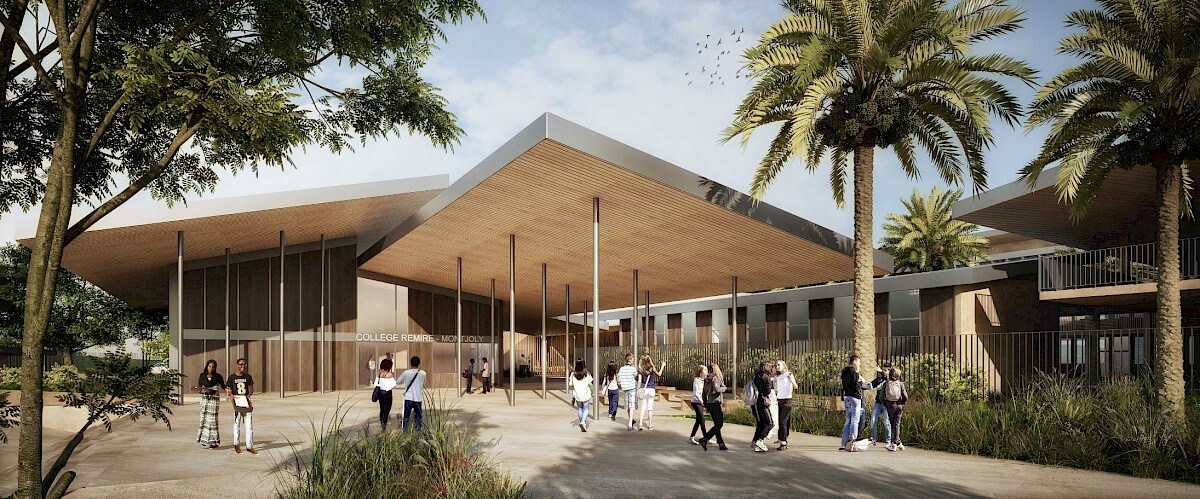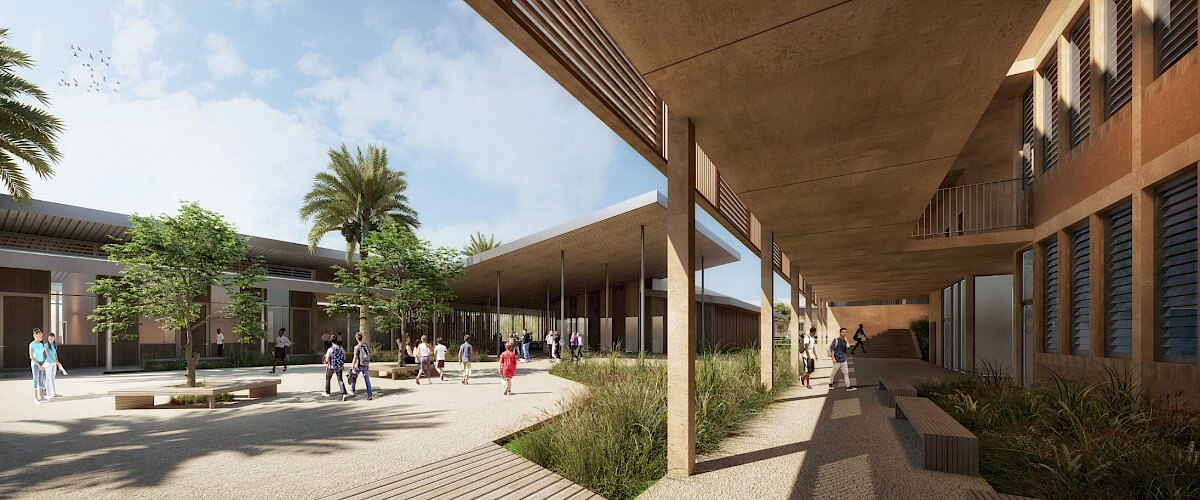 ---
Program
Construction of an eco-district college: 680 students, multipurpose rooms, 2 SEGPAs, catering 600 meals, gymnasium and sports facilities, staff accommodation

Client
Collectivité Territoriale de Guyane

Location
Rémire-Montjoly, Cayenne French Guyana

Design team
TERRENEUVE architects, representative; BARBOSA VIVIER GUYANE associate architects; EGIS Bâtiments Antilles-Guyane, engineers all trades + economics; BOTANIK, landscape designers; AXIAL catering design

Surfaces and construction cost
7 000 m2 + 7 800 m2 exteriors / 18,5 M€ HT

Timeline
Competition 2019, Delivery 2022

Missions
design and supervision + synthesis + BIM
Photos ©TERRENEUVE